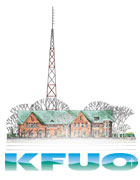 KFUO is dedicated to spreading the Gospel message of our Lord and Savior Jesus Christ with people around the world.  You can help us take this message to the ends of the earth by supporting this ministry.  There are several ways to partner with KFUO Radio:
Make A Gift Today
Give a special gift today.  The gift you give today will immediately be used to share the Good News.
Give Now
Become a Day Sponsor
For $480 ($40 a month) you can become a "KFUO Day Sponsor." You can select a special day to honor a family member, remember a loved one or celebrate a happy occasion – perhaps a birthday, anniversary, baptism, confirmation, graduation, etc.  The message you choose will be announced five times throughout the day on KFUO-AM.
Please contact Mary Schmidt at 314-996-1518 or at Mary.Schmidt@kfuo.org to learn more about this opportunity.
Become a Church/Organization of the Week
Is your congregation/organization interested in supporting the radio ministry of KFUO?
Our daily radio programs reach thousands of people every week. Many are Missouri Synod Lutherans.  However, many who call or write indicate they come from a variety of backgrounds including Roman Catholic, Baptist, Judaism, Pentecostal or non-denominational. We have letters from listeners who have become members of The Lutheran Church—Missouri Synod because of programs heard on KFUO-AM.
If your church or organization has a heart for missions and a desire to support our radio ministry, you  can become a "Church/Organization of the Week" for a contribution of $850.

As a "Church/Organization of the Week," you would benefit from the following:
Exclusive identification as the KFUO-AM "Church/Organization of the Week" for any available seven day period (Sunday through Saturday).
Inclusion as the "Church/Organization of the Week" in every hourly 10-second station identification announcement.
Thirty-five 30-second prime time (7 a.m. – 5 p.m.) announcements (5 per day) identifying your congregation or organization, your address and your phone number.  Your pastor or a church representative may record the announcement, if you like.
An interview featuring your pastor or representative on KFUO-AM's "His Time Morning Show" with the His Time host.